this post was originally written prior to my Arizona departure. carry on now.
As I'm about to head out for the great state of Arizona, I'm in full on "vacation mode" also known as "OH MY GOSH GET CRAP DONE AND NOW!" mode. I'm sure you know what I mean. I swear life can be completely uneventful and then the minute you are about to leave on a getaway the whole world needs to be conquered. So naturally I choose to conquer by getting my nails done and hopping in a hot long bubble bath believing if I sit and do nothing for long enough, nothing will actually need to get done.


It's foolish logic which explains why my hair is grey. Do not listen to the words I am saying.
Except do.


You may remember from here when I was sharing the Double the Fun rewards that Country Inns and Suites is offering now through June. Well guess what? I'm not done talking about it yet 😉 While in all things travel mode I thought I should share with you a few very other important and notable items about your next destination spot (think Chicago, Nashville, San Diego, Phoenix, and the list goes on and on..). There are a few things that I consider "a must" when choosing a place to stay. Lets talk about them shall we?
First and obviously most important, breakfast. If they don't serve it, I'm not stayin'. At Country Inns and Suites they serve a hot "be our guest breakfast" every morning which includes omelets, waffles, and burritos. The best part? It's free.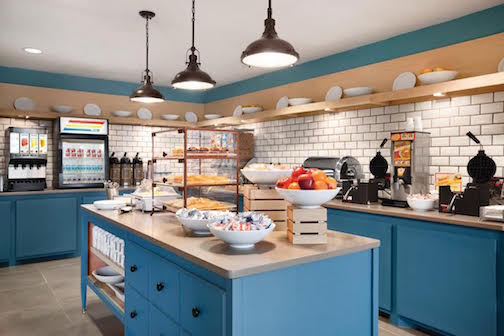 Next up is wi-fi. If they don't have it, I'm not stayin'. While I get that it's important to unwind while on vacation, it's also important to not get fired from your job. Hence the much needed wi-fi. Do you know what is greater than laying in a hotel bed doing nothing but browsing on your phone or computer? Sitting pool-side doing the same exact thing. Make sure you are covered anywhere you go at a property and you'll never have to leave.
Speaking of pools, those are pretty necessary when traveling as well. When you live in Indiana and only get to experience this goodness for a mere 28 days out of the year, you long to go to places with a pool. You know how much I like baths. Imagine my feelings towards pools. Fortunately Country Inns & Suites has a plethora of these as well.
And last but not least, cookies and coffee in the lobby. I'm a food girl. I want to be given things for free. Cookies happen to make me happy. I like being happy. Guess what? Country Inns & Suites would do a mighty fine job of making me happy.
And there you have it kids. All things that must be kept top of mind next time you are looking to travel. Anybody have somewhere awesome they are going soon? Anybody out there also digging Country Inns & Suites amenities? Glad we feel the same way.
Founder and creator of LIY, Erin turned her dream of a hobby blog into a full-time career which she now runs alongside the LIY team! When not in front of her computer screen [with a La Croix or wine in hand] or in front of a mirror taking mirror selfies, you can find Erin spending time on the water, cuddled up with her two pups and husband most likely watching the latest Shark Tank episode, or getting lost in an easy beach read.